Each year, millions of workers get hurt on the job.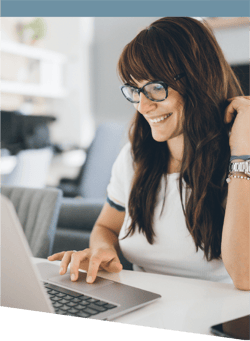 In order to help prevent work-related injuries and illnesses, OSHA has for decades required employers to keep track of these incidents by recording them in what is often called an "OSHA log." OSHA now requires
employers

to also electronically submit that data directly to OSHA for its review, in addition to keeping the OSHA 300, 300A and 301 forms.
---
What OSHA recordkeeping rules must employers comply with?
The information below provides everything employers need to know about OSHA electronic recordkeeping requirements and how to avoid penalties by complying with both federal and state regulations.
Download the full 2020 OSHA guidebook.
Highlights of OSHA electronic recordkeeping rules for employers
On May 12, 2016, Federal OSHA passed new regulations requiring employers to electronically submit injury data directly to OSHA.
Establishments with 20 or more employees from selected industries and all establishments covered by the recordkeeping rule with 250 or more employees must comply.
2019 OSHA 300A data must be submitted to OSHA by March 2, 2020.
Citing worker and employer privacy concerns, OSHA eliminated the requirement for employers to turn in the more detailed Forms 300 or 301.
Employers must upload their data via a CSV file or manually enter data for each of their covered establishments.
Violations for materially false, fictitious, or fraudulent statements can be punished by a fine or by imprisonment of not more than five years, or both.
Failure to submit records could result in a significant fine and trigger a more detailed OSHA recordkeeping audit.


The electronic submission requirements do not change any employer's obligation to complete and retain injury and illness records.

New EIN requirement
As of 2020, all establishments subject to the electronic recordkeeping requirements must also include their Employer Identification Number (EIN) with their Form 300A submissions.
According to OSHA, the inclusion of the EIN will make the submitted data more useful for OSHA and the Bureau of Labor Statistics (BLS) and could reduce duplicative reporting burdens.

How electronic submission works
On August 1, 2017, OSHA launched its Injury Tracking Application (ITA), a secure web site for the electronic submission of OSHA recordkeeping information. Injury and illness data can be submitted electronically at www.osha.gov/300A. If employers have questions about submission requirements, they can complete OSHA's Help Request Form.

You can choose from various methods to submit your injury data:
MANUAL ENTRY


For those organizations without access to OSHA recordkeeping software, you will be required to complete a manual submission to OSHA. You will first need to add your establishments to the application by creating profiles for them. Once you have set up your establishments, you can then enter and submit OSHA 300A data for each one via a web form.


UPLOAD DATA
For a quicker and simpler submission process, the ITA offers the option to upload a CSV file containing OSHA Form 300A data for all of your establishments at one time.



What is OSHAlogs?
OSHAlogs is an app to easily record injury data for employes. Employers can get access to this app through their insurance agent.




OSHALOGS.COM WILL SUBMIT FOR YOU
Employers can use an extremely useful online tool, OSHAlogs, to track injuries and illnesses as they happen throughout the year, which makes completion of Form 300A simple.

For companies using OSHAlogs.com, we will submit your injury data for you! No downloads required and no logging into the government websites. Simply verify your data and push submit! You will receive a confirmation and a record of the data that was submitted right within OSHAlogs.com.

Important OSHA calculations to know
OSHA rates and calculations are important to understand—and know how to calculate. Why? First, employers must submit several of these rates to OSHA every year, which OSHA uses for aggregate and industry analysis.
Employers can also benefit from examining these rates annually to discover negative or positive trends, and take action as needed (such as improving their safety program or adding a return-to-work program). These rates are all similar, but highlight slightly different data to analyze incidents from a number of angles.
---

OSHA Recordable Incident Rate
The number of employees per 100 full-time employees that have been involved in a recordable injury or illness.
Number of OSHA recordable cases x 200,000
Number of employee labor hours worked
This is a good benchmark for employers to evaluate annually to measure their incident rate. However, it is more effective for larger companies, as data will vary more for smaller companies due to a smaller sample size.

Lost Time Case Rate
The number of lost time cases per 100 full-time employees in any given time frame.
Number of lost time cases x 200,000
Number of employee labor hours worked
This illustrates how many of the OSHA recordable incidents resulted in lost time, giving more detail to the incident rate.

Lost Workday Rate
The number of lost workdays per 100 full-time employees in any given time frame.
Number of lost workdays x 200,000
Number of employee labor hours worked
Rather than focusing on number of incidents, this reveals the rate of lost workdays as a result of recordable incidents. If you divide this by the lost time case rate, you can discover the average number of days each employee lost (among employees who lost time due to a recordable incident).

Severity Rate
The number of lost days experienced as compared to the number of incidents experienced.
Total number of lost workdays
Total number of recordable incidents
This calculation provides a general understanding of the average severity of recordable incidents by understanding the average number of days lost per recordable incident.
DART Rate
The number of recordable incidents per 100 full-time employees that resulted in one or more lost or restricted days or one or more days transferring to a different job. DART stands for days away, restricted or transferred to a different job.
Total number of DART incidents
Number of employee labor hours worked
Employers can compare their DART rate to their incident rate to discover how often incidents resulted in lost days, restricted days or job transfer. If the two rates are the same, for example, it means every incident resulted in one of these outcomes.
---

OSHAlogs allows employers to easily input every recordable incident as it happens, then the software calculates these rates automatically. This becomes a fantastic value-add for the agent by simplifying complex OSHA recordkeeping for clients.

Preparing for submitting data
Checklist for employers to submit OSHA records:
Audit your current year OSHA logs to ensure all data is correct and complete, with no errors or missing information
Electronically submit your 300A data to federal OSHA by March 2nd of the following year
Confirm you have completed your previous three years of OSHA records in preparation for an SST OSHA audit
Confirm you have all the 300, 300A and 301 forms for each year

What data must be submitted by March 2 of each year
Though the electronic submission requirements were in effect starting in 2019, OSHA estimated that only half of the required establishments actually submitted their data. Failing to submit necessary data increases the risk of being targeted for comprehensive OSHA inspections.
The following information must be submitted for each required establishment. Data for each establishment should come from that establishment's completed OSHA 300A Form for the year.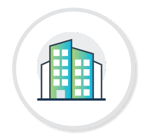 Establishment information
---
Company name
Establishment name
Establishment full address
Size of establishment
Establishment type
Employer EIN
NAICS code & industry description
OSHA form 300A year
Average annual employees
Total hours worked
Injury statistics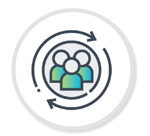 ---
Total # of cases with days away from work
Total # of cases with job transfer or restriction
Total # of other recordable cases
Total # of days away from work
Total # of days job transfer or restriction
Total # of death cases
Total # of injuries
Total # of skin disorders
Total # of respiratory conditions
Total # of poisonings
Total # of other illnesses

Who must comply with electronic reporting requirements
Electronic reporting requirements are based on the size of an establishment. An establishment is defined as a single physical location where business is conducted or where services or industrial operations are performed. An employer may be comprised of one or more establishments.
To determine if you need to provide OSHA with the required data for an establishment, you need to determine the establishment's peak employment during the last calendar year. Each individual employed in the establishment at any time during the calendar year counts as one employee, including full-time, part-time, seasonal and temporary workers.
Who needs to comply based on employer size: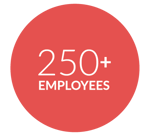 250+ employees: Establishments required to keep OSHA injury and illness records must electronically submit information from the OSHA Form 300A
---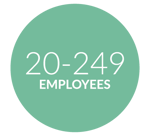 20-249 employees: Establishments required to keep OSHA injury and illness records classified in industries with historically high rates of occupational injuries and illnesses must electronically submit information from the OSHA Form 300A (view full list of industries here)
---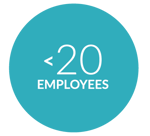 <20 employees—Establishments currently required to keep OSHA injury and illness records do not have to submit information electronically to OSHA under this rule
---

Which industries must comply:
250+ EMPLOYEES
All establishments with 250 or more employees in industries covered by the recordkeeping regulation must electronically submit to OSHA
20-249 EMPLOYEES
All establishments with 20 to 249 employees in industries listed below (over 600 NAICS codes), based on their NAICS code, must electronically submit to OSHA


65% of all company NAICS codes must submit their data to OSHA.
A majority of covered industries fall under these top NAICS codes:
| | |
| --- | --- |
| | AGRICULTURE (64 NAICS codes) |
| | |
| --- | --- |
| | UTILITIES (14 NAICS codes) |
| | |
| --- | --- |
| | CONSTRUCTION (31 NAICS codes) |
| | |
| --- | --- |
| | MANUFACTURING (346 NAICS codes) |
| | |
| --- | --- |
| | WHOLESALE TRADE (71 NAICS codes) |
| | |
| --- | --- |
| | GENERAL INDUSTRY / OTHER (145 NAICS codes) |

What are OSHA SST inspections?
OSHA issued a directive in 2018 letting employers know exactly how they are going to use submitted electronic illness and injury records. Called Site Specific Targeting Inspections, or SST for short, this will be Federal OSHA's main method of scheduling programmed comprehensive ("wall-to-wall") inspections. SST provides a year-long site-specific targeting inspection plan based upon the data submitted. SST targets work places of 20 or more employees and requires state plans to have their own inspection targeting systems.
According to OSHA, Site Specific Targeting is a continuing endeavor to use technology to prioritize inspections in OSHA's ongoing effort to help prevent illness and injuries and require that establishments provide safe work places for their employees.
Who is going to be targeted based upon the data submitted:
High Rate Establishments


Those are establishments with elevated days away, restricted or transferred rates (DART). OSHA will use different DART rates for manufacturing and non-manufacturing in an attempt to achieve a 50/50 balance for inspections.



Low Rate Establishments


OSHA will identify for inspection representative establishments with low DART rates to address potential concerns regarding under-reporting of injuries and illnesses in the 2016 300As.


Non-Responders
Those establishments that did not electronically submit their 300A reports will receive additional attention regarding recordkeeping, likely including citations for failing to electronically submit.
OSHA is already taking action on the SST program. One Ohio manufacturer was recently fined $724,380 during an SST inspection.
---
Common OSHA recordkeeping mistakes
OSHA recordkeeping is an essential responsibility for employers, and mistakes can result in costly OSHA citations. However, OSHA regulations are complex and errors or misunderstandings are bound to occur. Below are the most common mistakes employers make (and how to fix them).
Supervisors aren't trained to encourage reporting
The last thing you want is an OSHA citation for discouraging employees from reporting injuries or worse, retaliation. Make sure your managers and supervisors are trained to understand your employee reporting policies and procedures—and that they all take a pro-safety, pro-reporting attitude with their teams.


Too much reliance on your workers' comp agency
If your work comp carrier denies a claim because it is not "work-related," that doesn't necessarily mean you don't need to record it. OSHA's definition of work-relatedness may be broader than your work comp agency. OSHA defines a work-related case as one where a workplace incident or exposure caused or contributed to the condition, or "significantly aggravated" a pre-existing condition.


You record every incident that occurs
You may think you're covering all your bases by recording every injury, illness, and near-miss that occurs—even if it doesn't meet OSHA recordkeeping criteria—but doing so may show that you have a higher incident rate, making you a target of an OSHA inspection. Be thorough and act in good faith, but only document what is required.


Temporary employee injuries aren't recorded
You must record workplace incident and injuries for all your workers, including part-time, seasonal, migrant, or temporary. Even if a temporary employee is not on your payroll (such as one from a staffing agency), you must still record their incidents if you have day-to-day supervision over them.


Case is misclassified
On the OSHA 300 form, employers must check a box to classify a case as a death, days away from work, job transfer or restriction, or other recordable. Many employers check multiple boxes if relevant, but OSHA requires that only one box is checked. When there is overlap, select the box that reflects the most serious outcome.


Employee can perform other work
If an injured employee can still perform useful work, do you need to record their incident? Yes! If the injury precludes the employee from performing one or more routine functions of their job (something they do at least once a week), it is a recordable case—even if they can still perform other work. Light duty can be a recordable restriction, it all depends on the physician's specific instructions and limitations for the employee.


Days away from work are counted incorrectly
When counting days away from work, work restrictions, or job transfers, employers often mistakenly count only scheduled work days. In fact, OSHA requires you to include every calendar day, including vacation days, weekends, and holidays.


Incidents not recorded within 7 calendar days
Some employers get in the habit of updating their OSHA logs every month or even once a quarter, but this is just asking for an OSHA citation. Recordable injuries and illnesses must be recorded within seven calendar days of notification of the incident.


Failure to keep logs for all covered establishments
OSHA requires separate 300 logs and 300A summaries for each covered establishment, or location, within your organization. An establishment as defined by OSHA is "a single physical location where business is conducted or where services or industrial operations are performed, or housed." Employees who work remotely must be "linked" to one of your establishments for recordkeeping purposes.


Incorrect certification of OSHA logs/300A forms
Once OSHA logs are completed, OSHA requires that a company executive, corporate officer, or the highest ranking official working at that location signs to certify the accuracy of the data. A safety manager or HR professional typically does not satisfy those requirements.


Failure to post when there are zero incidents
Employers are required to post the Form 300A Summary even if there were no recordable injuries or illnesses. If there are no incidents, simply enter zeroes for the column totals.


Not posting the right data at the right time
When posting the 300A summary, be sure to post last year's data. For example, the summary totals for cases that occurred in 2019 should be posted from February 1, 2020 to April 30, 2020.


Data doesn't add up
If the number of cases don't equal the total injury and illness type, the OSHA 300 log may have been completed incorrectly. The total number of cases listed on the top left of the OSHA 300A form must match the total number of types listed on the bottom left of that form.


Posting the OSHA 300A only on the company intranet
A paper copy of the Form 300A must be posted in a "conspicuous" place where notices to employees are customarily posted. Sharing only online is not sufficient to comply with OSHA guidelines.


Posting the wrong form
Employers must post the OSHA 300A summary to comply with OSHA regulations. The OSHA 300 log should not be posted as it contains confidential information such as the injured employee's name, the type of injury, the number of lost or restricted work days, etc.


Confusing the OSHA 300A posting and electronic submission
Many employers are now required to also electronically submit OSHA 300A data to OSHA directly. This does not eliminate the need for these employers to post the 300A in paper format. Every company must post the 300A paper form!


How OSHA recordkeeping affects Workers' Compensation
Injuries logged with OSHA affect workers' compensation premiums, so keeping injury rates low is especially important. It may not seem intuitive, but P&C and benefits go hand-in-hand.
Staying on top of OSHA recordkeeping is key in keeping workers' comp premiums low, and it can help drive safety initiatives. Here are some tips:
Prepare for the March 2 deadline to ensure OSHA 300A and 300 forms are submitted on time and completed accurately (try using OSHAlogs for easy recordkeeping)
Pay attention to injury trends and research how to make changes to prevent repeat incidents
When someone gets injured on the job, there's a limited amount of time before that employee needs to be paid for lost time—and employers are on the hook for a huge work comp surcharge if lost time is paid out. OSHAlogs can also speed up the timeline to avoid any lost time.
Implement safety and wellness programs
The health of employees impacts workplace safety and vice versa. The outcomes greatly differ between healthy employees who get hurt on the job and unhealthy employees.
A recent Duke University study revealed that obese workers who experienced work-related injuries or illnesses had:
2 times the number of workers' comp claims
7 times higher medical costs from their workers' comp claims
13 times more lost work days
Implementing effective safety and wellness programs can reduce future workers' comp claims and help keep premiums low.


---
How can serious losses be prevented?
Major incidents causing serious injuries and lost time are rare, but less serious events happen all the time. Paying attention to smaller incidents can prevent serious losses down the road.


Direct vs. indirect costs
When you think of losses, you probably think of work comp costs, lost time and major incidents, but you should also think of restricted days, medical-only, first aid, property damage, near miss and at-risk behaviors.
For every lost workday incident…
There are 10 recordable workplace incidents
And 100 near-miss incidents
According to a study done by H.W. Heinrich, 95% of all workplace incidents are caused by unsafe acts.
While lost workday incidents include visible direct costs, near-miss and other recordable incidents have indirect costs (such as time taken by other employees to assist with first aid or cleanup, get back to work again, file incident reports, etc.). It is a mistake to consider only "lost workday incidents" as incidents that cost a company money.
Workplace accidents: causes, frequency & type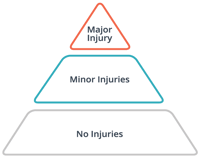 For every workplace accident that causes a major injury, there are 29 accidents that cause minor injuries and 300 accidents that cause no injuries (H.W. Heinrich).


---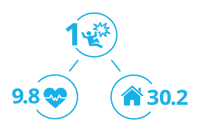 For every reported major workplace injury, there were 9.8 minor injuries reported and 3.2 accidents resulting in property damage (Frank E. Bird).
What does this mean for employers?
Most employs simply respond to large incidents when they occur, but if you focus on the bigger picture (lost time), there are many minor accidents that happen prior to the major ones that provide learning opportunities and chances to educate employees and improve accident prevention.
Pay attention to accident reports and use this data to implement better safety practices and accident prevention techniques will reduce major losses in the long-term. It will help y save money and keep employees safer and healthier.



How can insurance agents support OSHA compliance for their clients?
Challenging the incumbent and winning new business
Sharing valuable resources with your prospects is a great way to add value that the incumbent isn't. Provide this OSHA guidebook to help them navigate submission requirements and see your value. Plus, host webinars or seminars, providing useful information to attract new leads through education.
Show prospects that they need to focus on more than lost time—it's time to start investigating why incidents are occurring to prevent future, larger, incidents from happening. Learn how to teach clients to focus on prevention first and win new business this season. Electronic recordkeeping requirements apply to many of your clients and March 2 brings a big deadline they don't want to miss.
Plus, getting your prospects' injury data can help you tailor your conversations and even do an OSHA recordkeeping audit to help them prepare for possible SST program inspections. But how can you access this data without their agent being notified? Learn stealthy ways of accessing OSHA records to simplify your sales process and increase your value.
Not only can you prepare them for possible inspections, but you can also expose work comp surcharges and show them how much they're overpaying for their premiums. While you're doing this, you can show your prospects how you can reduce their premiums and save them money, helping you close the sale.

Deliver enormous value to existing accounts
Sharing valuable resources with your clients to help them comply with the annual March 2 deadline is a great way to add value to your services and protect them against fines and penalties. Provide this OSHA guidebook to help them navigate submission requirements and see your value. Plus, host webinars or seminars, providing useful information through education.
Be proactive in monitoring OSHA records to minimize lost time, improve safety and prevent future incidents.
Your clients may not know that they are at risk of an SST program inspection. As their agent, you should help protect them from the huge fines they could face. Educate them and help them prepare today, so they don't get caught off-guard.

Help clients simplify OSHA recordkeeping with OSHAlogs
OSHAlogs is an app for employers to easily record injury data. If you're not using OSHAlogs, you're missing out on a great value-add.
Employers can use this extremely useful online tool to track injuries and illnesses as they happen throughout the year, which makes completion of Form 300A simple.
If your clients are using OSHAlogs.com, we will submit their injury data for them! No downloads required and no logging into the government websites. They will simply verify their data and push submit! Clients will receive confirmation and a record of the data that was submitted right within OSHAlogs.com.